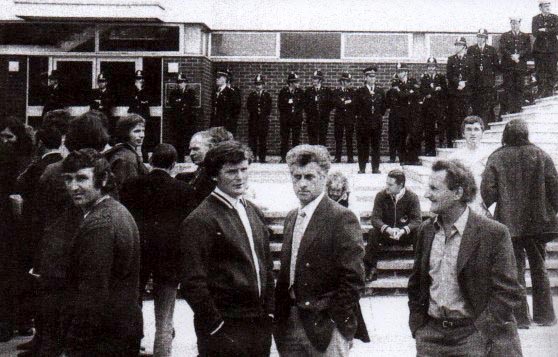 Three months before the first trials at Shrewsbury, fourteen North Wales building workers were prosecuted at Mold Crown Court by Gwynedd police. The first one involved eight pickets and began on 27June 1973. Des Warren recalled them:
These were of great importance and a dress rehearsal for Shrewsbury. What they meant was described to me by one solicitor: 'Like a West End impresario, the Director of Public Prosecutions used the Mold trials to cross out the faults in the production, prior to the Shrewsbury run'.

The Key to My Cell p.33
The five Mold trials resulted in only minor charges being upheld by the jury, resulting in small fines ranging from £15 to £50. A second trial at Mold commenced on 18 July 1973 and all three defendants were found not guilty. Seven of the pickets tried at Mold Crown Court were to appear again at the later trials at Shrewsbury.
The Crown prosecutor at Mold was Maurice Drake QC. He and his team were to go on to prosecute the 24 pickets in the three trials at Shrewsbury. As Des Warren noted, the prosecutors had used the Mold trials as a dress rehearsal for the main production. They were determined to use the lessons that they had learned from the Mold trials to ensure that they obtained convictions of all the pickets at Shrewsbury.