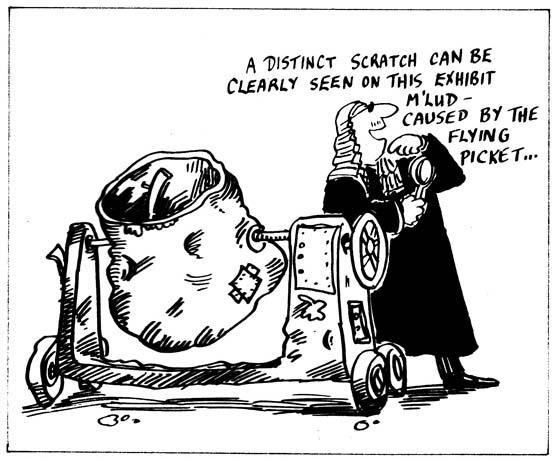 The 24 pickets were split up into three groups and tried in separate trials. This in itself was unusual given that the charges against them all arose out of the same set of circumstances, on the same day, on the same building sites in Shrewsbury.
The first of the trials held at Shrewsbury Crown Court took place on 3 October 1973 and involved just six pickets, the so-called 'ringleaders'. They were charged with conspiracy to intimidate, unlawful assembly and affray. The trial lasted for eleven weeks. Three men were convicted of all three charges: Des Warren, Eric Tomlinson and John McKinsie Jones. They were sentenced to three years, two years and nine months of imprisonment respectively on each count, to run concurrently. The remaining three men, John Carpenter, John Elfyn Llywarch and Kenneth O'Shea were found guilty of unlawful assembly and each received sentences of nine months' imprisonment suspended for two years.
The second trial held at Shrewsbury Crown Court began on 15 January 1974. Nine pickets were charged with unlawful assembly and affray. Again, the prosecution did not proceed with the specific charges against many of these nine pickets, of assault or criminal damage, because the Crown would have had to produce evidence that the individuals did assault a particular person or damage a particular piece of property.
Brian Williams, Arthur Murray and Michael Pierce were found guilty of both charges and were sentenced to six months imprisonment for affray and four months for unlawful assembly. Five of the remaining six pickets were convicted of unlawful assembly and given suspended prison sentences. Only one of the nine was found not guilty.
The third trial began on 26 February 1974. The remaining nine pickets stood trial on charges of unlawful assembly and affray. The Crown did not proceed against one of them, but the remaining eight were all convicted and received suspended prison sentences.