By Harry Chadwick
I am the chairperson of the Shrewsbury 24 Campaign. I live in Wigan, a carpenter by trade and throughout my life have worked on building sites, mostly in the North West. I have always been a member of a trade union.
My site came out from day one of the strike back in 1972. Building sites were very dangerous places. We would organize a site and improve conditions, only to do the same thing all over again on the next site we worked on. Des would say we had to, 'plough the field again'. The employers would blacklist us off sites and we would have to go further and further away from our home towns for jobs.
The strike started in June 1972 and, together with many other building workers, I picketed working sites throughout the dispute. We put our hearts and souls into bringing about change in the industry. As a single man I was unable to claim social security and lived on loans and family support. For the first time the skilled trades stood together with labourers and tabled a common claim to the employers. £30 for a 35-hour week. Improved health and safety. Paid holidays. An end to the lump.
We stayed out for 12 weeks and won a big improvement in basic wages but there was plenty of unfinished business to achieve decent and safe working conditions. We pledged to repeat our demand for improved safety standards and an end to the lump in the 1973 wage round.
When we heard about Des Warren and the Shrewsbury 24 pickets my Wigan UCATT branch, together with Wigan Trades Council, supported them throughout their trials and prison sentences. Des was jailed for 3 years; he served 28 months–well over half his sentence.
Towards the end of his time the site that I was working on and others had a whip round and bought Des's eldest son, Nick, a bike. When we took it to his house in Wales the door was opened by his wife, Elsa. She said with a smile on her face, "I've a surprise for you, Des is home." He had been released on Thursday 5 August without fuss or a desire to seek publicity and we were his first visitors. We could not believe it. They gave us tea and sandwiches. They both thanked us very much and we had a long chat before they wished us well and we got on our way back to Wigan. I have never forgotten it.
Des was 38 when he was released from prison, but due to the employers' blacklist and his deteriorating health he never worked again. I got to know Des quite well after our visit to his house with the bike. I would often visit him after that when he moved to Chester. We would go for short walks along the Canal to his mum and dad's house. His health had suffered greatly due to the terrible conditions he was subjected to whilst in jail. He later sued the Home Office for being given a mixture of drugs by the prison authorities which caused him major health problems. His book The Key to My Cell gives full details.
Although not a well man Des first wrote about his experiences in a pamphlet Shrewsbury – Whose Conspiracy? The need for an enquiry, which he published himself in 1977. This was the foundation for his book The Key to My Cell in 1982. Both told the story of the strike and the Shrewsbury pickets. I always respected him for trying his best to improve the working conditions of all building workers. He was never interested in thinking only of himself. He was victimized by the state in the worst way possible, his liberty taken away. He underwent the unbelievable pressure of being away from his wife and five children for almost three years.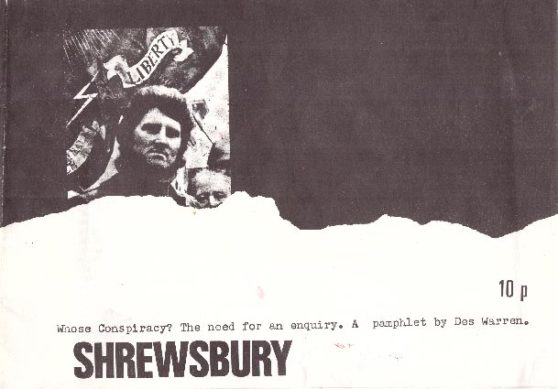 I campaigned to free the jailed pickets in the 1970s and I was a founding member of the Shrewsbury 24 Campaign when it was set up in 2006. I have been fortunate to meet some of the pickets who were prosecuted with Des back in 1973. His friend Ken O'Shea was Chairman of the Denbigh Strike Action Committee. Ken lived in the same area as Des and would often try to get him a 'start' on jobs. He and Des went as delegates to the North Wales & Chester Area Action Committee throughout the strike. They picketed together everywhere during the summer of 1972 and they stood alongside each other in the dock for over eleven weeks in the first trial at Shrewsbury Crown Court. Ken was given a nine-month suspended prison sentence. Sadly, Ken passed away on Boxing Day 2017. We visited him in hospital a week before he died. He was his own sharp and humorous self. He talked about Des and reminisced about their picketing days during the strike. He knew that we had recently been turned down by the CCRC but he told us, 'never give up'.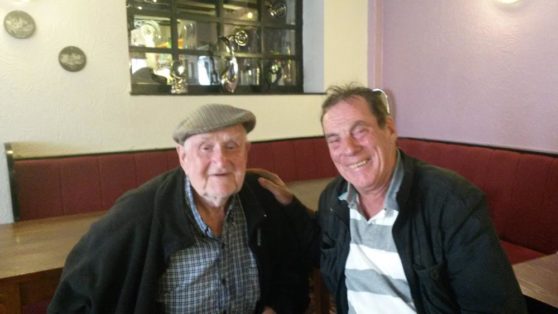 Des was a quiet man who never made empty gestures. He was articulate and a shrewd trade union negotiator who you could rely upon. He was a principled man who would never give up. We would often chat about what he would like to happen. He told me that what he wanted above all was that the truth about Shrewsbury should come out. People should know about why the Shrewsbury 24 were prosecuted and what happened during the trials.